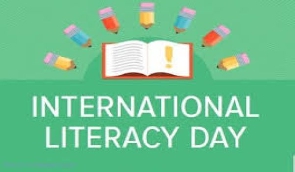 English remains the official language for teaching and learning. This policy puts some individuals at a disadvantage, especially those who can only communicate in their local language.
A Senior Lecturer at the University of Education, Winneba Samuel Ziggah has recommended the compulsory use of our mother tongue as the official language for teaching from basic school to Senior High Level.

According to Samuel Ziggah, children must be encouraged to read and write in their mother tongue. He admonished teachers to adopt the use of local languages in teaching and learning. He believes that children who are well-groomed in their mother tongues have the ability to learn any other language efficiently.

The United Nations Educational, Scientific and Cultural Organization (UNESCO) has declared 8th September for the celebration of International Literacy Day to raise awareness of and concern for literacy across the world. There are some challenges that affect global literacy despite efforts to improve the literacy rate.

Russia currently has the highest literacy rate performance, 53% of its population has tertiary education. In Africa, Seychelles, Equatorial Guinea, and South Africa have the most educated populace. A higher literacy rate helps eradicate poverty and also reduces the dependency rate. The educationist stressed the need for the revamp of the educational system and called for a reform in the sector.

"In Ghana, we have a problem, any country that has developed used their mother tongue. Look at China, France and Germany for instance, even though English is studied as a second subject…..here we are in Ghana, people get very good grades but once they fail in English they cannot move on the educational ladder. Are we serious? "
The theme for this year's Literacy Day is 'Literacy and Multilingualism'. The ability to communicate effectively in three or more languages opens your world of possibilities. This year's celebration seeks to address the challenges in literacy by embracing linguistic diversity in education and literacy diversity.

The northern region has the lowest literacy rate whiles the Greater Accra Region comes in first with the highest literacy rate in regions. Ghana has made a significant improvement in bridging the literacy gap between boys and girls.

The Educationist advised that only trained teachers be allowed to teach specific subjects.

He also attributed the constant change of textbooks to the poor performance of students. Teachers are not abreast with updated textbooks and this results in poor performances on the side of teachers. Samuel Ziggah also condemned the one- week training of teachers on the new curriculum,

"We are not serious, this curriculum training should have taken one full year so that the teacher take hold of the curriculum, understands it and implement it well but we are rushing. There are a lot of challenges, even the way teachers teach" he lamented.