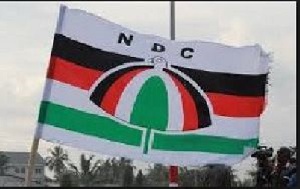 Information reaching DAILY GUIDE indicates that a chieftain of deposed National Democratic Congress (NDC) will soon be put before court over $6 million 'bribe' he allegedly received while serving in government.
The top NDC figure, who was a chief executive of a cash-soaked state agency, is said to have received the $6 million for award of contract to supply some products to a company but it later turned out that the products were unwholesome with damning effects on the users.

The NDC top-notch was awarded the multi-million dollar contract for the supply of special products to farmers and ended up creaming off the said $6 million.

The money was said to have been traced to his personal account.

According to sources, the former chief executive is also involved in other alleged shady deals with the wife of a top official of the immediate past NDC administration.

He is likely to be hauled before court for multiple charges, including fraud and causing financial loss to the state.
The current New Patriotic Party (NPP) administration is waging a war against sleaze and official corruption with the establishment of the Office of the Special Prosecutor.

Martin Amidu, a former Attorney General and Minister for Justice, is heading the new dispensation.

DAILY GUIDE has learnt that an office space has been secured for the Special Prosecutor at Labone in Accra.

At the Independence Anniversary celebration recently, President Akufo-Addo indicated that corruption and the stealing of public funds continued to hold back Ghana's development, adding that corruption is not a partisan matter and that all Ghanaians must act to protect the public purse.

According to President Akufo-Addo, "With the office of the Special Prosecutor now in place, we can expect more prosecutions for corruption in the coming months; and public officials, present and past, should be on notice that they would be held accountable for their stewardship of our public finances."
Touching on the recent audit by the Auditor-General into the liabilities of the ministries, departments and agencies which led to the disallowance of some GH¢5.4 billion of claims, the president stated that those claims would otherwise have been paid, but for the eagle eyes of the Auditor-General.

"Can you imagine what we can do with GH¢5.4 billion? It can certainly finance the Free SHS for five years," the president pointed out.

Additionally, he noted that government, in 2017, made significant savings of some GH¢800 million in government procurement, "as we depart from sole sourcing as the primary method of public procurement. That departure will strengthen our public finances, and make it possible for us to finance our development ourselves."

The protection of the public purse, President Akufo-Addo stressed, is for a social common good, and it depends on all of Ghanaians.

"It is in all our interest that corruption does not thrive, and we police each other's behaviour. 'Ghana Beyond Aid' means Ghanaians should not serve as fronts for foreign companies to defraud our country. It will mean we all pay our taxes, as provided by law, and it will mean we all help to take care of government property, as though it were our own," the president added.