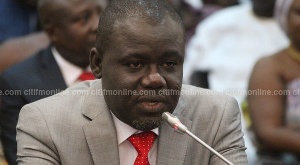 Transport Minister, Kwaku Ofori Asiamah, has ordered investigations into the allegation that GH¢135,125 was spent on food, drinks and music during the end-of-year party of the Ghana Maritime Authority (GMA) in 2017.
In a press release dated 29th October, 2018, the minister observed that "my attention has been drawn to a number of allegations against the Director General of the Ghana Maritime Authority, Kwame Owusu, which have gone viral on social media."

He added that "as the sector minister with oversight responsibility over the Ghana Maritime Authority, I wish to indicate that I have directed the Board of the Authority to investigate the allegations and report to me for necessary action."

No timeline was given by the minister for the investigations to be completed by the Board of GMA.

Background

It would be recalled that controversial musician, Kwame A Plus, in a recent Facebook post, revealed that the Director General of the GMA, Kwame Owusu blew an amount of GH¢135,125 on end-of-year party for staff last year.

A Plus also disclosed that the Director General and seven other members of management of the GMA spent an amount of GH¢10,652 on food at Luxe Suites Hotel on one night.
The embattled Director General of the Ghana Maritime Authority is said to be the Group Chairman of Luxe Suites Hotel, and his patronage of the hotel using his position at GMA raises a conflict of interest case.

'Leaked' memos by Director of Administration GMA, requesting for GH¢135,125 and the GH¢10,652 to be paid to Luxe Suites Hotel were allegedly posted on Facebook by A Plus to prove his case.

The party was said to have been held on December 22, 2017 at Luxe Suites Hotel, with no details of how many persons attended the party available to the media.

A Plus wrote: "Charley, me I still don't understand how eight people spent GH¢10,652 on food during a meeting. Ah how? It means each person's food (just one meal) cost 1,335.00 Ghana cedis. Really? If you own Ghana as your private company, will you spend this amount on a meal for just one meeting?

"Apart from conflict of interest which is a serious offence, let me ask this: how many people can eat 135,125.00 Ghana cedis worth of food? Herrrh they can eat ooo, hahahahaha.