UNIPASS debacle: 'Inept Osafo-Maafo can't be looking for his pension from citizens' resources' – Adongo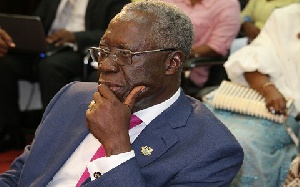 Bolga Central MP Isaac Adongo has said the controversial UNIPASS payment system recently introduced at the ports through the intervention of Senior Minister Yaw Osafo-Maafo, which created a lot of problems for freight forwarders and clearing agents, is a means by which the former Finance Minister wants to secure his "pension" using the resources of Ghanaians.
The opposition member of Parliament's Finance Committee told journalists on Wednesday, 29 April 2020 that: "The last thing they expect to see is to get to a port and not be able to load their trucks to go and run the filling stations and make some money to support their businesses and at the end of the day now be saddled with the possibility of shortages of fuel across the globe by this inept Senior Minister."

"We cannot allow somebody who belongs to a generation that is already gone to sacrifice the future of the next generation.

"I want to take this challenge to the senior minister that he cannot be looking for his pension from the resources of the people of Ghana.

"He must deliver what is value-driven for our people. He must not spend a penny of the people of Ghana to buy up a contract that is not superior and better than the existing contract and he must not pose additional risk to the business community at the port who have already suffered enough because they can't even import the goods into the country", Mr Adongo said.

Meanwhile, the old payment system, GCNet, has been restored paving the way for importers and exporters to transact business.
This follows the challenges encountered at the ports on Wednesday with the introduction of the new Integrated Customs Management System (ICUMS) – UNIPASS.

ClassFMonline.com learns that the importers and exporters are satisfied with the restoration of the GCNet system.

"We are okay for now, we hope the backload can be cleared very early though it will take some time", a clearing agent told ClassFMonline.com



"I hope the government will allow GCNet to operate. GCNet system makes things work faster, they should allow them to work", he said.
The Importers and Exporters Association and the Ghana Institute of Freight Forwarders have been locked up in a crunch meeting with government officials in Tema over the challenges encountered with the UNI-PASS payment system which has generated controversy at the ports.



The government delegation is led by Trade Minister Alan Kyerematen, Deputy Finance MinisterKwaku Kwarteng, Acting Commissioner-General of GRA Amishaddai Owusu-Amoah and a representative of Senior Minister Yaw Osafo-Maafo.