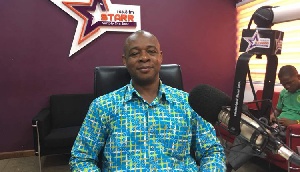 Security analyst Adam Bona has advised politicians in the country to step aside and allow security professionals to lead conversations on the military agreement between Ghana and the United States.
In his view, politicizing the matter will dilute the value of the debate as Parliament considers ratification of the pact today, March 23.

Speaking on the Morning Starr Friday, Mr. Bona said the approach of Ghana towards the agreement can affect its relationship with the United States in the future.

"The politicians would have to step aside and allow the experts to speak on issues. We shouldn't allow politicians to confuse us on issues as this. National Security issues should not be partisan because when we do that it would come back to hunt us some years to come," he told host Francis Abban.
On his part, first vice chair of the Eastern regional branch of the NPP Nana Fredua Ofori-Atta said it is the responsibility of the government to highlight the details of the agreement to Ghanaians.

"The government has the responsibility to highlight what it believes is right for Ghanaians. The fact that the government brings a document doesn't mean it endorses it".

The Government of Ghana, according to a leaked document, has approved the agreement with the US to set up a military base in Ghana and also allow unrestricted access to a host of facilities and wide-ranging tax exemptions to the United States Military—a claim the government of Ghana and the US denied.