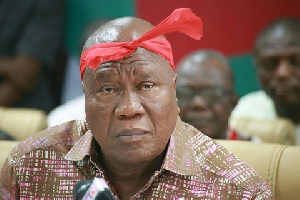 The main opposition National Democratic Congress (NDC) cannot go into the next elections divided, Kofi Portuphy, National Chairman of the NDC, has said.
For this reason, he has called on all members of the party, especially the top hierarchy, to desist from actions that lead to disunity within the NDC.

Speaking at a press conference in Accra on Wednesday April 12, Mr Portuphy said: "Today I wish to make a fresh appeal especially to those who are nursing leadership ambitions to lead the NDC: do not let us put the cart before the horse. The task we face now is reorganisation of the party and mobilisation for victory.

"Those who aspire to be in leadership positions, including the flagbearership position, must understand that we will need a strong, united and formidable party to stand behind them in the quest to regain power in 2020.
"We should, therefore, not act in ways that play into the hands of the ruling NPP which appears determined to use its presidential power and parliamentary majority to rule Ghanaians with impunity and arrogance.

"All of us from the rank and file must understand that we cannot fight the NPP with a divided front and if we, by our actions, create a void, our detractors will continue to feel the void with falsehoods.

"We wish to remind all party faithful that when the NDC lost the elections in the year 2000, it encountered challenges similar to what we are experiencing today. At that time we managed to put aside our differences and worked together to recover from the electoral defeat and won the elections in 2008. The NDC can do it again not in eight years but, by God willing, in four years."