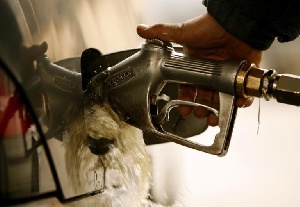 The Chief Executive Officer of the Association of Oil Marketing Companies (AOMCs), Kwaku Agyeman Duah, says although fuel prices will go down, consumers should not expect a drastic reduction.
He made these statement when he addressed journalists in Accra on the current high cost of fuel which has gotten Ghanaians talking.

Kwaku Agyeman Duah said, "they expect that it [fuel prices] also goes down and you see it is going down but it cannot be that drastic. [The prices] going down is like sharing and it's just like when it's going up we also share because what it means is that we have to recover some of the losses you have made; it varies from one OMC to the other depending on how much losses they've made."

"If you go to the market place right now you see some of them have reduced very well…so the next window you see people responding very well but what we are saying is that it cannot be as drastic as people expect. If this trend continues the market dynamics will make that there is a conformity to the price reduction," he added.

He however noted that there will be a steady decline in fuel prices if the trend continues and the cedi appreciate.
The National Petroleum Authority (NPA) has hinted of a 15% reduction in fuel prices by the Oil Marketing Companies (OMC).

Reacting to this, the CEO of the AOMCs said he would have wished the regulator avoided the price forecasts.

The AOMCs is however, rejecting calls for the regulator to step in to force a reduction in prices at the pumps.

So far members of the AOMCs say they have subsidized fuel prices to the tune of GH¢51 million and cannot continue to make loses.