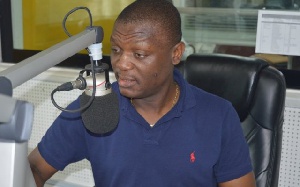 National Organiser of the opposition National Democratic Congress (NDC), Kofi Adams has conceded his party made some 'unpardonable' mistakes in 2016 which led to their exit from government.
He expressed optimism that the "NDC will bounce back" in 2020 to rule the country but not until some issues are resolved amicably within the 'Umbrella' fraternity.

Mr. Adams told host of NEAT FM's morning show host, Kwesi Aboagye that former President John Dramani Mahama did exceptionally well for the country but some misapprehensions among his party leadership led to his downfall.

"Former President Mahama did really well in 2016 to have extended his leadership but some mishaps within the party caused him. It's very unfortunate and I know by now they have regretted [He failed to mentions those individuals]," he said.
Speaking on NEAT FM's morning show 'Ghana Montie', the former NDC campaign coordinator, however, noted that, the NDC can only retain power if they build that "unity" again in the party.

"If we stop this infighting and use the appropriate structures to resolve issues we will come back to power again," he said.

Adding that "But victory will be much easier for us [NDC] if President Mahama accepts to contest for the NDC again. I have that faith that he will come back."