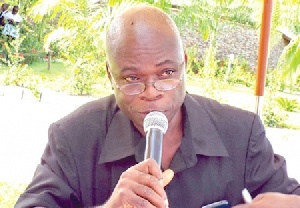 The Minority NDC MPs say their decision to boycott Parliament on Thursday and Friday, April 6 and 7, 2017, have been aborted.
They have, however, cautioned not to sit beyond Friday, April 7, 2017, the date scheduled for the House to go on recess sine die.

"We will accommodate Friday but if we are unable to finish business, I don't think that we will be in the position support to the Majority side again," noted the deputy Minority Leader, Hon. James Klutse Avedzi. The Minority NDC, Friday, March 31, 2017, served notice not to sit beyond Wednesday, April 5, 2017.

In their view, since the House has virtually exhausted all its programs lined up for the First Meeting of the Seventh Parliament, sitting beyond the stipulated period will be a waste of their time and the country's scarce resources.

On Tuesday, April 5, 2017, the Minority NDC MPs serving on the Appointments Committee boycotted the vetting of deputy ministers.

MP for North Tongu, Samuel Okujeto Ablakwa told journalists that the Majority side of the House was to rush things by forcing them to vet all the 54 ministers of state and deputy ministers without giving them space to do due diligence on the nominees.
"We don't want to be part of the rush and the shoddy work being done," he noted.

But the 2nd deputy Majority Whip and MP for Kpandai, Matthew Nyindam denied forcing the Minority NDC MPs to work when they do not want to do so. To him, if the NDC MPs are tired and cannot continue to do business in the House, they have not issues with it.

Nonetheless, he said it would have been proper to work together but they (NDC MPs) having bared their teeth to distance themselves from the business of the government, the Majority will have no option than to continue with the mandate given them by their constituents.

However, Hon. Avedzi commenting further said their decision to serve notice not to sit beyond Wednesday was the fact that "Members have become exhausted." "We served notice that we will not sit beyond Wednesday, April 5, 2017 because when you look at the business of the House, apart from the work of the Appointments Committee which if the reports are not submitted to the House, the House cannot take any action.

If you look at the work, you realized that the work could be done by end of Monday or Tuesday. So, we decided that if you should do the work on Monday or Tuesday, by Wednesday, we should be able to finish everything. When we came on Monday, there was nothing to do. Tuesday was the same and today, Wednesday, is not different from Monday and Tuesday.
That tells you that there is a deliberate attempt by the Majority to delay the process so that the Appointments Committee can finish their work and then bring the reports to the House."

"I think that treating Members on the Minority side or Members in general in this way is not nice. The President could have nominated the people earlier for the work to be done earlier.

We are going for recess and we are going for Easter. If we go beyond Friday, it means that our sitting will take us into Easter which is not good. Members should have at least two or three days of rest before we go for our Easter Holidays."