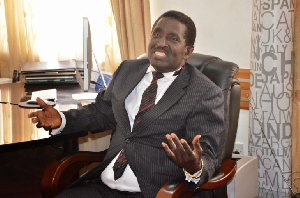 A Private Legal practitioner, Lawyer Effah Nkrabea Dartey, has said that we need discipline leaders who will tackle corruption with iron hands.
According to him, Corruption is a form of dishonesty or criminal offense undertaken by a person or organization entrusted with a position of authority hence corruption must not be tolerated in our society.

He added that, "Leaders of this country must be discipline and committed to fight corruption to promote democracy.''

In an interview with Kwame Tutu on 'Anopa Nkomo'' on Accra-based Kingdom FM 107.7, stated that unlike other past presidents who have been accused of corruption, Nana Addo has set a record of one who is free from corruption.
"Based on what I have seen, I can say that the commitment to get rid of corruption is in the right direction. Corruption is not something that is readily seen.''

Lawyer Effah Nkrobea Dartey urged leaders to realize that corruption is a barrier to every country development and therefore should not resist of fighting corruption.