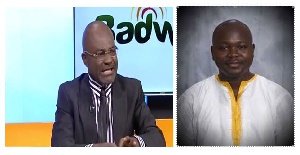 Controversial NPP Member of Parliament for Assin Central Honourable Kennedy Agyapong has fired Deputy Chief of Staff at the Office the President, Mr Francis Asenso Boakye, referencing his 'big belly', and reminding him of where "they" picked him from.
In a tape MYNEWSGH.com has, Mr Kennedy Agyapong said the young deputy Chief of Staff was 'growing horns', becoming arrogant and power-drunk, leading to a situation where the young deputy Chief of Staff could engineer someone's sacking to be replaced with his own brother.

This was in relation to the job of the Environmental Protection Agency boss, one Peter Abum Sarkodie, who the Assin Central MP alleged is being replaced with Asenso Boakye's brother.

"We picked you (Asenso) from Chicago with your big stomach, …. Today you and Lord Commey are dictating", the MP said.

In the tape, Mr Kennedy Agyapong vowed to expose 'arrogant' Mr Asenso Boakye, revealing that Asenso Boakye was a nobody whom "they" picked up from Chicago, asking for the whereabouts of Asenso Boakye and his brother when Mr Peter Sarkodie was serving as Mampong NPP Constituency Secretary, Chairman and MP for them to seek to remove him from EPA after 8 months.

"How unfair can you be to people who commit themselves to this party?" He asked.
Seeming very much concerned about where Asenso Boakye was 'discovered', he repeated:

"You Asenso Boakye we went to meet you at Chicago. You Asenso! And today you are dictating pace", he thundered.

The Assin Central MP also bemoaned the 'mafia' going on in the party regards NPP's upcoming National elections, calling on delegates not to allow Jubilee house to influence them in any way, but that they should vote freely.

"We will vote very well… We will use our mind to vote…. no one will dictate to us", he said.

It wasn't just Asenso Boakye- Lord Commey, a Senior Presidential staffer too had his good share:
"When we were working to win Greater Accra, where was Lord Commey and co? The mafia work we did to win Greater Accra. When we were meeting at midnight to prevent the NDC from rigging where was Lord Commey?" The MP asked.

"If they joke I will mention where we picked up each of them. Today they have hijacked the cars and money at the Flagstaff house", he alleged.

Mr Ken Agyapong, who has cultivated a reputation of saying things freely and speaking for the youth and loyalists of the ruling NPP, said people who toiled for the party are not been being rewarded, and few who are, are being "mafia'ed".

In the tape, he mentioned one Gabiana, a woman from Bawku Central as someone who fought for the party but has been "sidelined" in favour of one Rockson. MYNEWSGH.com cannot confirm if the Rockson refers to the Upper West Regional Minister.

Asenso vs Hajia Fati vs A'Plus
Vociferous member of the NPP Hajia Fati, had only weeks ago, in a fit of rage, verbally attacked this same Deputy Chief of Staff, Francis Asenso Boakye, raining insults on him at the party's headquarters in Accra.

The Deputy Chief of Staff, who had gone to the party headquarters to monitor proceedings of the NPP Steering Committee on the Deputy General Secretary of the party, Nana Obiri Boahene, was suddenly verbally assaulted by Hajia Fati, who is based at the party headquarters; accusing him of denying her and other colleagues, who have toiled for the party to come into power, the needed resources to make their lives better.

Musician and NPP member A'Plus also accused Asenso Boakye and his counterpart Abu Jinapor of 'taking bribes' at the then Flagstaff House as the presidency was called. The allegation was investigated by the CID and found to be without any merit.