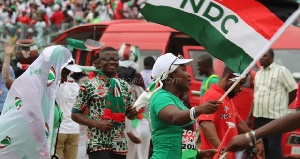 The decision to return ex-President John Dramani Mahama for 2020 by the ten Regional Chairmen of the opposition National Democratic Congress (NDC) has largely been criticized as 'needless', but the party Chairman in the Brong Ahafo Region Opoku Atuahene has defended the decision.
According to him, the ten Regional Chairmen of the party, have only done what the grassroots want and since they have not breached any provisions of the party, "I don't think we have done anything wrong".

He insisted that it was a collective decision taken by persons at the branch, constituency and regional levels which they (ten regional chairmen) found it expedient to formalize and officially communicate same to the former president. Opuku Atuahene explained: "We are leaders and have followers, we have people that we are leading and if that is what they want, we cannot say no.

So, if they had said no to John Mahama, we will also support them, but for now, everyone knows John Mahama is the best bet of the party" There are people also calling on other aspirants to contest to become flagbearer of the party and we believe the delegates will decide on who leads the party in 2020, the Brong Ahafo Chairman of NDC told host of Onua Fm morning show Bright Kwesi Asempa.

The 10 Regional Chairmen had issued a communiqué on Thursday urging former President John Dramani Mahama to avail himself to lead the party in the 2020 presidential elections to wrest power from the Akufo-Addo-led administration.
But former Member of Parliament for Ablekumah Central Theophilus Tetteh Chaie thinks the decision was premature.

He said the prime focus of the party now should be how to reorganize and not engaging on activities that will disorganize the party further.

But Opoku Atuahene insisted that "the disunity that people talk about, is not at the grassroots level, not among the majority of the party members but just those at the top, so if we those who are on the ground say we need John Mahama, it means we feel he is the one. Moreover, he is widely known and best marketed".

He observed that, they are no saying other aspirants are not good materials or not qualified but they are only responding to the calls of the masses.