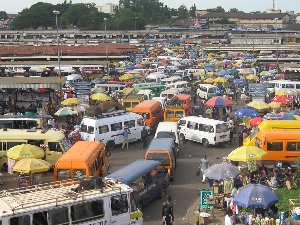 The General Secretary of the Ghana Road Transport Coordinating Council, Andrews Kwakye has stated that but for the involvement of the Transport Ministry in its series of meetings they would have increased transport fares beyond the 15% announced.
Explaining why they would have loved to do that, Andrews Kwakye said those in the transport business have a lot of expenses they make which needs to be considered to make their work profitable.

He said regular maintenance and other expenses leaves drivers with little or no money at all at the end of the day and therefore would have loved if the fares had gone a bit higher.

Asked about a group called "True Drivers Union" who have planned to embark on a demonstration if prices of fuel are not reduced, Kwakye said they have no idea of a group called "True Drivers Union" and therefore have no idea about the planned demonstration.

Transport fares have been increased by 15 percent effective Thursday, April 6, 2017. This was announced in a statement from road transport operators.
Transport operators have been advised to comply with the new fares, and "post the fare list at their loading terminals so as to avoid any confrontation with the travelling public."

The statement further asked Ghanaians to cooperate with the implementation of the new fares.

These new fares come at a time when the new government has reduced the Special petroleum tax rate from 17.5 percent to 15 percent; and also abolished duty on the importation of spare parts.