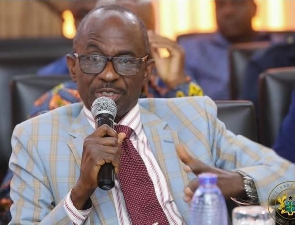 Some delegates doubling as supporters of Masawudu Mubarick, a disqualified National Democratic Congress (NDC) Parliamentary candidate in Asawase have threatened to cut the live of the party's General Secretary, Mr. Johnson Asiedu Nketia short over happenings in the constituency.
"We want to send a signal to Asiedu Nketia not to come to Asawase for any reason else we are going to out tyres around his neck and burn him alive", the aggrieved supporters vowed.

The NDC supporters Thursday besieged party's Ashanti Regional headquarters of the where they , burnt tyres in protest of the incumbent MP's re-election bid, Hon. Mohammed Muntaka Mubarak.

"That was a tip of the iceberg and we dare any executive either from constituency, regional or national including the General Secretary to come down see what will happen to that person", the group which identified themselves as 'Fire for Fire' told host of Kumasi FM's morning show, Nana Yaw Mensah Joel in an interview MyNewsGh.com.

The youth had stormed the secretariat to register their displeasure for the disqualification of their preferred candidate, but would not find anybody to speak to, as occupants of the building had ran for cover upon getting the hint of their coming.

Their absence caused the irate youth to lock up the office and set fire into a number of car tyres to indicate their rage, sending a thick billow of smoke into the Kumasi sky from the forecourt of the party office.
The Functional Executive Committee (FEC) of the NDC disqualified Masawuud Mubarick from contesting the party's parliamentary primaries in the Asawase Constituency.

"The decision follows the acceptance of the report of the Committee for Settlement of Outstanding Disputes (the Doe Adjaho Committee at FEC sitting on Tuesday, 3 September 2019.)… by this decision, Hon. Muntaka Mubarak goes unopposed and for matter stands elected as the Parliamentary.

Candidate for the Asawase Constituency." a statement signed by NDC General Secretary, Johnson Asiedu Nketia read in part.

But the group calling itself 'fire for fire" has called the decision of the FEC of the NDC a "subversion of the will of the delegates", challenging the party to allow the incumbent MP to be subjected to an open contest if they believe his popular to retain the seat.