General News Wed, 18 Jul 2018
Barely a day after news ran rife that the British Broadcasting Corporation (BBC) had denied suggestions that 'Number 12' was a joint project with Anas Aremeyaw Anas and his Tiger Eye PI, the public service broadcaster in a Facebook post says it is not distancing itself from the investigative journalist.
Abdul-Malik Kwaku Baako, Editor-In-Chief of the New Crusading Guide newspaper and mentor of Anas was hit with a barrage of criticisms after an email from the BBC to Sulemana Braimah of the Media Foundation for West Africa (MFWA) was shared on social media.
In the said email, the BBC indicated that it has no knowledge of the 'Number 12' documentary which exposed rot within the Ghana Football Association (GFA).
"The BBC documentary, 'Betraying the Game', broadcast after 'Number 12' was first put into the public domain, was an independent and impartial work and a report about Mr Anas' investigation… The BBC played no part whatsoever in his investigation and has never sought to suggest otherwise. 'Mr Anas is not a BBC journalist, we did not work with him during his investigation or commission him to carry out this investigation," the email said.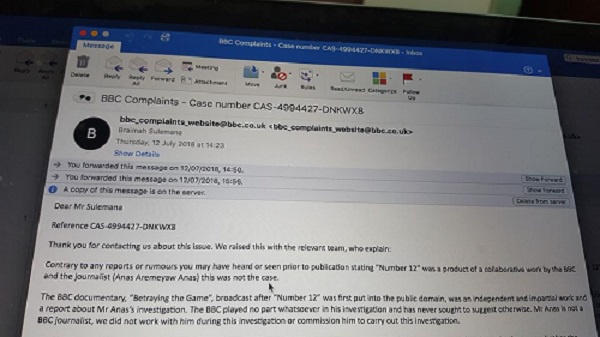 The said communication between Braimah and the BBC
Mr. Baako, prior to the public screening on June 6, 2018, remarked that the exposé was a Tigereye – BBC project, stressing that any attempt to prevent the video from being shown to the public would be an exercise in futility.
"If anyone succeeds in placing any form of an injunction on this particular project on Wednesday [June 6], it will be shown outside the country on BBC. This is an exercise in futility. If they don't want us to show it here [in Ghana], we know where to seek that relief," he noted.
Reports that the BBC had denied the collaboration led to some Ghanaians, especially those who disagree with Anas' method of investigation, chastising Baako and his mentee for 'deceiving' the public. For them, it was an affirmation of their claim that Baako and Anas are not trustworthy.
But the BBC responding to the issue said it was false.
"Please note that reports circulating in the media that BBC Africa Eye is distancing itself from Anas Aremeyaw Anas are completely untrue. In fact, we are currently working with Anas on a new project. When we produced our exclusive Africa Eye film, Betraying the Game, we made it perfectly clear from the outset that this was a documentary about his investigation. Anas has himself confirmed this and agreed that our documentary would include questions about his methods as well as his extraordinary revelations, which were clearly overwhelmingly in the public interest to report" the statement read.
What did you ask the BBC? – Sammy Darko queries Braimah
Samuel Darko, a journalist and lawyer has asked Mr. Braimah to share with the public what questions he [Braimah] asked of BBC. In a Facebook post, he noted that the very question "informs" the answer Braimah got.
Darko further indicated that Anas Aremeyaw Anas and his Tiger Eye PI should rather be lauded for their efforts to expose corrupt officials than vilified.
"Hasn't this always been Anas' idea. That an African journalist will produce work that giant media houses will chase for the rights. Isn't it a fact that there is competition between BBC and Aljazeera as to who should take up Number12. Isn't it a joy to have big brands "fight" over the work of a journalist from Ghana?" he asked.
Baako's apology
Before the official statement from the BBC, Baako reportedly apologized on radio for his comment. The seasoned journalist explained that he made the comment at the time because he assumed that the people Anas was involved with during the investigations were still with the BBC.
"I had said so publicly that it was a joint project …and indeed why I said so was because the three people who were dealing with Anas, who I've known for the last 30 years, were BBC people. Apparently, they have left the BBC but are part of the technical team.
"They came to me and I dealt with them on so many things…so there was a level of arrangement and collaboration between them but I had gone to the extent of saying it was a joint collaboration. So I was wrong," he was quoted to have said on Peace FM's morning show, 'Kokrokoo'.