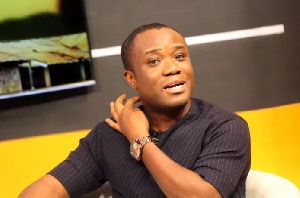 Felix Kwakye has called on Vice President Dr. Mahamudu Bawumia to deliver another lecture on the state of the Ghanaian economy.
The former deputy communications minister under the erstwhile Mahama administration made the call in the wake of the massive fall of the Ghana Cedi against the US dollars.

The local currency has been depreciating against the dollar particularly for some time now with some analysts predicting it will hit the 5 cedi mark soon.

As at close of business on Monday [September 10, 2018], some banks were selling a dollar for 4 cedis 97 pesewas.
Sharing his thoughts on twitter, he posted a banner of the famous economy saving lecture the vice president delivered in 2016 on the theme, "The state of the Ghanaian economy – A foundation of concrete or straw".

The accompanying text read, "When is the next lecture?" See the tweet below


When is the next lecture? pic.twitter.com/ypyinxCBSm

— Felix Kwakye Ofosu (@FelixKwakyeOfo1) September 8, 2018