General News Sun, 14 Aug 2016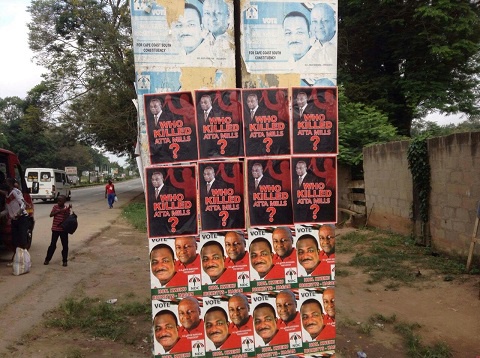 Posters of the late President John Atta Mills have been seen in places like Pedu junction, Abura, Adesadel, Moree barrier, Aggrey Memorial SHS, Cape Coast Takoradi highway and around new Cape Coast Stadium which happens to be the venue for the campaign launch.
Reports indicate that some natives of the Central Region, who are upset about the way the late president was catered for and died, are behind the pasting of the posters at the time the party is launching its campaign at the home region of the late professor.

This latest incident revives the call for the government and the NDC to come clean on what actually led to the death of Prof. Mills and the possible foul play involved.
"They want to know who killed Atta Mills, many of us want to know that too", a resident who gave his name as Ato said after staring at the posters for a few minutes.