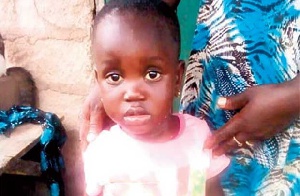 A woman, whose identity is yet to be known, reportedly died in a Trotro vehicle on Thursday, leaving her two-year-old daughter in the commercial vehicle.
Reports indicate that the deceased was travelling from Fosu in the Central Region to Takoradi in the Western Region when the unfortunate incident happened.

The Yamoransa Police, confirming the incident to local radio station, Adom FM, said while passengers in the vehicle were waiting at the Fosu Station for the vehicle to get full for the start of the journey, the woman left her child to use the washroom.

Police Inspector Liberty Kobla in Yamorasa, who narrated the incident, said when the woman returned from the washroom, she called a 'pure' (sachet) water seller to buy water, but before the seller could get to her, she had fainted and died on the spot.

The police officer said the woman was not carrying any form of identification or cell phone for the driver or passengers to contact anyone.

They, therefore, reported the matter to the police.
The deceased is reported to be between 35 and 40 years, dark in complexion and was carrying plantain in a sack.

The little girl is with the Yamoransa Police, who are waiting for the family of the deceased.

The Yamoransa Police have pleaded with the general public to assist in locating the family of the deceased.

The body has since been deposited at the morgue of the Interbentil Teaching Hospital in Cape Coast.