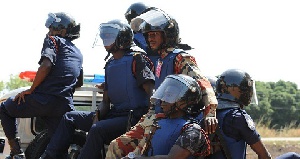 The Accra Regional Police Command has said that drivers who flout the Public Order Act and go ahead to organise a demonstration on Wednesday, 20 December, will "face the full rigours of the law".
This was contained in a press statement signed by ASP Effia Tenge which explained that the police have not given approval for any demonstration by drivers.

The statement indicated that a group comprising the True Drivers Union, Concerned Drivers Association and the National Concerned Spare Parts Dealers, intends to use its members' vehicles in the supposed demonstration, an "action the police believes will cause serious traffic congestion and lead to chaos".
The police said the group has not followed due process and any attempt to demonstrate on the intended date "will amount to unlawful demonstration".

The police cautioned the leadership of the group to desist from any actions that will flout the law and pledged its commitment to work in the interest of the public.