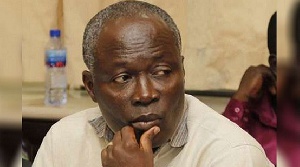 The Member of Parliament for Odododiodio constituency, Nii Lantey Vanderpuye, has described as "419", the Zongo Development Fund set-up by the governing New Patriotic Party (NPP) to help develop the Zongos.
He said the fund is a strategy developed by the Akufo-Addo-led government to deceive the people of Zongos to vote for them in the 2020 general elections.

"The Zongo development fund is a 419 set-up to deceive the people of Zongo to vote for them [NPP] in the year 2020," he said.

The former sports Minister indicated that the National Democratic Congress (NDC) has not done anything bad against the people of Zongo and for that reason, with or without the Zongo fund; the people in the Zongos will not turn their backs to the NDC and will continue to vote for the NDC in the 2020 polls.
Mr Vanderpuye said this at a mini-rally organised by the Asawase constituency branch of the NDC in the Ashanti region on Saturday, 3 February 2018, dubbed: "fire for fire".

He said the NDC government provided better roads and portable water for the people of the Asawase constituency and that when voted for, the MP for the constituency, Muntaka Mubarak, will not only provide better roads and the portable water but more projects will be developed in the Zongos.