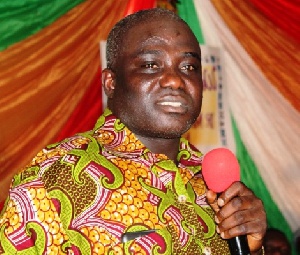 The Minority in Parliament has blamed the governing New Patriotic Party (NPP) over the attack on one of its members Eric Opoku, MP for Asunafo South.
Mr Opoku was attacked by some unknown men in his home when he traveled to his constituency to celebrate the Christmas.

A statement issued by James Agalga, Ranking Member, Defence and Interior Committee of Parliament, said:

"The minority has learnt with shock and dismay the brutal and unprovoked attack on the member of parliament for the Asunafo South Constituency, Eric Opoku, who is also the former Regional Minister of the Brong Ahafo Region under the John Mahama-led NDC administration in the early hours of the 25th day of December, 2017.

"We are reliably informed that Eric Opoku had travelled to his constituency to celebrate the Christmas festivities with his constituents and was actually locked up in a meeting at his residence when a mob of NPP supporters numbering about a hundred and armed with machetes and guns carried out the attack without provocation.

"In the cause of the unprovoked attack, stones were pelted by the assailants at the residence of Eric Opoku and in the process, massive damage was caused to a number of vehicles including a Toyota Land Cruiser belonging to the Hon. Member and the residence itself.
"The minority in parliament condemns the attack in no uncertain terms as it is yet another manifestation of political vigilantism designed to intimidate, harass and silence vocal and outspoken members of the opposition National Democratic Congress (NDC). In fact, what happened to the Hon. Eric Opoku on the 25th day of December, 2017 is not only criminal but is also an assault on our young and fledgling democracy."

The statement added: "As of now, no action has been taken to identify, arrest and bring to book the perpetrators of this atrocious appalling and criminal act. It is inactions of this kind that have created a culture of impunity that enhances the growth of these lawless elements parading as political vigilantes.

"The minority calls on the law enforcement agencies to act with dispatch by fishing out and bringing these faceless hoodlums to book. Such action is crucial to halting and ending these unfettered acts of lawlessness unleashed on Ghanaians across the length and breadth of this country since the NPP came to power.

"We will also seize this opportunity to call upon the President, His Excellency Nana Akufo-Addo not only to concentrate on alleged crimes committed in the past but also crimes committed under his watch by members of his government and party."