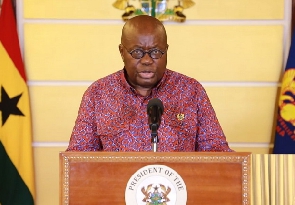 President Akufo-Addo has said his government has taken the boldest decisions so far in history in tackling corruption frontally.
Addressing the nation on Friday on the 30th anniversary of the 4th Republic, he stated "I say, without any form of equivocation, that my government has undertaken, arguably, the boldest initiatives since independence to reform and strengthen the capacity of our institutions to tackle corruption in the public sector." 

He added: "if we seek to prolong our democratic journey, it is imperative that we enhance transparency and accountability in our governance structures, and build strong institutions that can fight corruption and the dissipation of public funds."

Special Prosecutor, Kissi Agyebeng, recently questioned the commitment of government in dealing with corruption in the country.
"On the part of the government, is the government ready for the fight against corruption? From where I sit, I have not seen much. I have not seen much commitment. I have heard lip service on too many occasions paid to the fight against corruption", he said on Joy Fm.

But the President claimed his commitment to the corruption fight is seen in the financial empowerment of anti-corruption bodies, as well as the empowerment of the Office of the Special Prosecutor, "an independent, non-partisan body, with the relevant professional capability and exclusive mandate to investigate and prosecute acts of corruption," he stated.