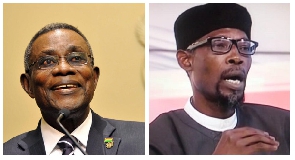 The spokesperson for the National Chief Iman, Sheikh Armiyawo Shaibu has noted worryingly the impact of 'politics of insult' on Ghanaian society.
The spokesperson lamented that politicians are misguiding Ghana's youth because they are increasingly coming to terms with insulting the elderly. He brought up the issue of some eight Chiana SHS students who insulted the president of the republic and were suspended.

According to him, the late president of Ghana, John Evans Atta Mills, was opposed to the culture of politics of insults and organized a conference at Peduase for the religious bodies to counsel them against engaging in insults.

Speaking in a panel discussion on GTV Breakfast Show, Shiekh Aremeyaw further voiced his deep concern that all of the former president's efforts had been in vain and he wishes he was alive to see how his colleagues have watched on for the canker to worsen.

"The young people who insulted the president were given some punishment. It is important for us to reflect on what could be the consequences and how did we get there.

"I remember his excellency John Atta Mills very well on this subject. And I keep on repeating this, when he took office, one of the major things that occupied his attention and gave him concern was the politics of insults.
"You know he was in office for a time. But the early part of his office was when he was concerned about this. I would have wished he lived longer today and witnessed.

"Even though he is out of office, he could be given the opportunity to give his reflections on this because is something that he spoke about for a long time.

"And he called the religious bodies both Muslims and Christians at Peduase and he was trying to use them as a way to really get into the mind of the public about how we should really handle this matter. Just because we're in politics and we can really reduce ourselves to such levels," he narrated.



AM/KPE