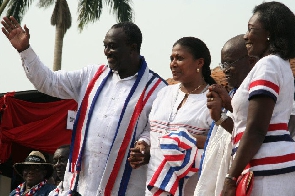 GhanaWeb Feature
Surely, it would be political babies who wouldn't know that between President Nana Addo Dankwa Akufo-Addo and his former Minister of Trade and Industry, Alan Kyerematen, the two have been, perhaps, one of the most interesting political rivals this country has ever produced.

Just consider this: the two have each gone at each other in the race to becoming the flagbearer of their party, the New Patriotic Party (NPP), twice, with Nana Akufo-Addo getting the upper-hand in both instances.

When Akufo-Addo eventually got that last nod as the flagbearer of the NPP, leading him to win the 2016 general elections and become Ghana's 5th president of the fourth republic, Alan did not contest him.

Interestingly, when he came president, Nana Addo Dankwa Akufo-Addo gave Alan Kyerematen one of the most important ministerial appointments in his government –as Trade and Industry minister.

It was an important and very critical role for someone who always went head-to-head with him politically and seeing that the area of industrialisation was a major factor of all the promises the NPP government promised Ghanaians, the president still trusted his most competitive 'rival' to execute the transformation of that sector.

And even after winning a second term in office as President of Ghana, that did not see Alan out of office, making him – as at the time of leaving office, the longest-serving Minister of Trade and Industry Ghana has ever had.

That's a whole lot of confidence in a man of such interesting political twists.
But then it seemed Alan Kyerematen only understood at a point in his political life that it was time to allow the fortunes of times and seasons to come knocking at his doorsteps. He understood the waiting memo and when the time was right, as he has recently indicated, he has returned to the very road to becoming the flagbearer of the NPP.

But even more, he wants the job of his former boss, Nana Addo Dankwa Akufo-Addo.

Quit now to campaign or stay put – Akufo-Addo to appointees

As far back as 2021, President Nana Akufo-Addo had started picking signals that a number of his appointees, including Alan, had begun making political moves for his job.

This was not the case of an ousting or a political overthrow, but he knew these appointees of his had started putting measures in place to democratically take over from him as the flagbearer of the NPP, and eventually, as president of Ghana.

These were mild moves being made and perhaps, only a few people knew and understood what was happening then, but the president thought it wise to issue a stern warning to such appointees.

After a cabinet meeting in December 2021, President Nana Akufo-Addo is reported, by asaaseradio.com, to have given the clearest indication to his appointees on what he expects of them if they want his job, literally.
Call it a lifeline, or any other similar description, the president told his appointees that they should resign from the jobs he has handed them to chase their political aspirations, or simply stay put and get their heads in the game.

"President Akufo-Addo, on Friday gave the clearest warning to his Ministers aspiring to succeed him to 'focus on the job' he has given them 'or quit now to pursue' their 'presidential ambitions,'" the report stated.

While on a visit to the Manhyia Palace to meet with the Asantehene, Otumfuo Osei Tutu II, President Nana Addo Dankwa Akufo-Addo gave a hint of what he knew about the political aspirations of some of his appointees.

"I am here with the Minister of Transport, Minister for Works and Housing, the National Security Boss, Chairman One; Wontumi, the Food and Agriculture Minister; Owusu Afriyie, who wants to be President. I also have here with me someone who has long eyed the presidential seat, the Minister of Trade and Industry; Alan Kyeremanten, a very hard-working man. All of them are doing a good job," President Nana Addo Dankwa Akufo-Addo chuckled amidst loud noise from the crowd gathered at Manhyia.

Alan Kyerematen resigns

It took the likes of Alan Kyerematen and the outgone Minister of Food and Agriculture, Akoto Owusu Afriyie, more than two years to come to the point of taking the bold steps of leaving the scene for Akufo-Addo so they could work their ways at taking over his job.

On Friday, January 6, 2023, Alan resigned as Minister of Trade and Industry.
Confirming the earlier reports that had announced his resignation, the Director of Communications at the Presidency, Eugene Arhin, signed a statement confirming that President Akufo-Addo had accepted the resignation of Alan.

"The President of the Republic, Nana Addo Dankwa Akufo-Addo, on Friday, 6th January 2023, accepted the resignation from office of Mr. Alan Kyerematen as Minister for Trade and Industry. This was after Mr. Kyerematen, on Thursday, 5th January, informed the president personally of his decision to resign, and subsequently submitted submitted his letter of resignation to him," the statement said.

Alan's 5 new strategies to keep Ghana away from an 'IMF return'

In his first official address to the country after his resignation, which was also to announce his bid to run for NPP's flagbearer race, Alan Kyerematen stated some 5 strategies he believes can keep Ghana away from returning to the International Monetary Fund (IMF).

He listed them as: a strong macroeconomic environment, New Agricultural Revolution (NAR) for Ghana, industrial transformation, accelerated infrastructure development, and strategic engagement with the international community.

The speech was termed Great Transformational Plan.

Wanting Akufo-Addo's job
It is still early days, especially because the New Patriotic Party (NPP) is yet to announce its plan for primaries and the flagbearer race, but the message is quite clear now; Alan Kyerematen wants his former boss's job – the presidency.

But he won't be in this race alone, as there seems to be an imminent competitive race for the flagbearer race of the NPP, with the likes of Kennedy Agyapong, the Member of Parliament for Assin Central, joining the race.

Is this Alan's time? Or would it be a repeat of history? Indeed, time will tell.

AE/WA