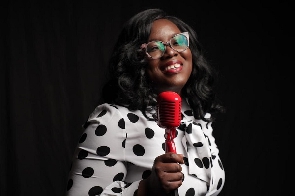 Fri, 26 May 2023 Source: JSMART Amenuveve, Contributor
Seven7 Africa Signee, Ama Kutin, a US based Ghanaian Gospel musician after making enormous statement earlier this year with her remarkable 'Journey Album'.
A thought through album that saw a lot of 'pre and post' release activities in order to solidify her venture into the music space and fully announcing her stay amidst the high and lows. The 'Journey' has been well recounted for as she has bagged two nominations in the Ghana Music Awards USA for both New Artiste And Female Vocalist Of The Year.

Living her 'Journey' in 'Grace', Ama Kutin has released what could be described as simplest, detailed but catchy visuals for track number three off her 'Journey Album', 'Eye Adom' with the literal meaning (By His Grace).

The gospel music industry is growing in numbers and quality. Unlike the past, some independent gospel artistes are now finding their way to the music charts and making significant strides with their listenership.

All these are arguably as a result of new ways of marketing their crafts beyond the four walls of various church auditoriums and Ama Kutin is one of such artistes pushing the limits of Ghanaian inspired gospel music even in the US.
Ama Kutin's The Journey' album was launched in a grand style in February 1, 2023 amidst virtual and in-person listening session graced by many prominent individuals around the Christian fraternity and some gospel musicians like Herty Corgie and Humphrey Tetteh. The first of it's kind that shook the diaspora gospel space.

More so, Ama Kutin's 'Eye Adom' deeply represents the aura of her ten-track album titled 'The Journey' which features artistes like Koda and The Manifest GH.

The colourful music video was shot and directed by Seven7 Africa Production with the song produced by music maven KODA (KODED STUDIOS) and lyrics written by Bright Amankwah.
Source: JSMART Amenuveve, Contributor