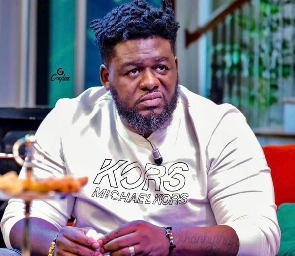 Artiste manager cum pundit, Bullgod, has lashed out at individuals who have been pressured by Hajia4Reall's extravagant lifestyle on social media.
He made this statement in reaction to claims that Hajia4Reall's wealth flaunting on social media was a bad influence on the youth.

Hajia4Reall's arrest has since resurrected the topic of celebrities flaunting their 'ill-gotten' wealth on social media under the guise of hard work.

It also sparked the discussion that the youth who often allow the 'pressure' get to them engage in all sorts of vices just to live lavishly like their favourite celebrities.

But Bullgod thinks being pressured by the lifestyle of people, particularly, Hajia4Reall is a very stupid way to live.

In a discussion on the United Showbiz, Bullgod said being caught under such an influence only means one is ungrateful for the essential necessities of life including; breath, food, good health and so on.

"Anybody who is pressured by Hajia4Reall's lifestyle is foolish, mad. The person is a fool, stupid and doesn't deserve to live. I am telling you. Because you can't live your lives based on how others live theirs. We all have our path, why should you give yourselves unnecessary pressure? There are some basic things in life, if you can achieve those things, thank God. Let me mention two of them. If you are able to wake up in the morning and go to toilet, thank God. It's a huge achievement.
"You can eat and do other things and you are taking such blessings for granted? You are really a fool. You are looking at people's cars and houses when you have been blessed this much? I always say that you don't need a bed or a house to sleep. You need sleep to sleep. People are too foolish! We are too foolish! You are the reason God said when he created human beings, he regretted," Bullgod fumed.

Background

Popular Ghanaian socialite, Mona Faiz Montage, widely known as Hajia4Reall, had been extradited to the United States from the United Kingdom over alleged involvement in a $2 million romance scam targeting older, single Americans.

According to US federal prosecutors, the 30-year-old musician cum businesswoman appeared in Manhattan federal court on Monday, May 15 for her alleged involvement in a series of romance schemes.

The news has since flooded social media, topped Twitter trends amidst massive reactions from netizens online.

Hajia's jail requirements
'Hajia4Reall' has pleaded not guilty to the charges levelled against her.

She is set to be released on home detention to her aunt's New Jersey residence in the coming days on a $500,000 bond with GPS tracking via an ankle monitor, her lawyer and the prosecutor's office have confirmed.

Watch the video below:


EB/WA