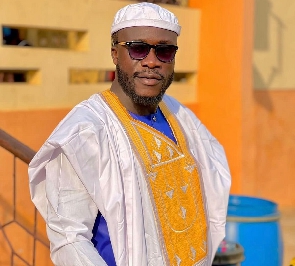 Kumawood actor, Ebenezer Akwasi Antwi, popularly known as Ras Nene, has expressed his gratitude towards Asamoah Gyan, acknowledging him as one of the people who helped him when he started his movie skits and lifted him to his current level.
Speaking with Zionfelix, he disclosed that Asamoah Gyan has done so well and he wants to appreciate him.

"I want to appreciate Asamoah Gyan, that man has helped me a lot. I am talking about those who helped me when I started my movie skits and people who lifted me to this level, Asamoah Gyan is one of those people. He has done so well," he said.

According to Ras NeNe, he used Asamoah Gyan's name for a skit, and when Asamoah Gyan heard about it, he shared the video on his platform and gave him money to push him.

"I used his name to shoot a skit, look at someone of his calibre and use his name like that. When he heard about it, he didn't get angry, and he posted it on his platform. Later he said Nene meet me, I am in Accra, and he gave me money," he added.

Ras NeNe disclosed that Asamoah Gyan did a great deal for him and wants everyone to help him thank him for helping him gain more followers and support him financially.
"That man has done so much for me, and I employ the whole world to appreciate him for me. After he shared my video, his followers followed me, and whenever I shot a video, he kept posting my videos and will call me to give me money," he shared.

In addition, Asamoah Gyan gave him money to buy his camera, which he still uses today and has used to reveal many talents.

"Some of the money he gave me is what I used in buying my camera which I still use today and through that camera, it has unveiled a lot of talents," he revealed.




Watch the latest episode of Nkommo Wo Ho below:





ADA/BB