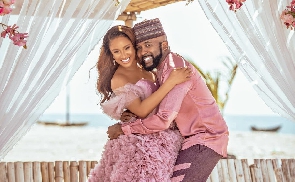 Nollywood actress and singer Adesua Etomi-Wellington has stated that her marriage to singer and politician Olubankole Wellington, also known as Banky W goes beyond sex, romance, and everything else that constitutes a marriage.
The actress and mother of one made this statement during the Sunday service at the Waterbrooks Church in Lagos.

Before agreeing to her husband's marriage proposal, Adesua admitted she friend-zoned him for a year and a half.

The movie star explained her choice by stating that at the time she made it, she had not received any guidance from God on the relationship.

Adesua continued by saying that the foundation of friendship they established was crucial to the state of their marriage today.
She said, "I would like to say that friendship plays a huge role in laying the foundation of your relationship. I friend-zoned my husband for a year and a half [laughs].

"I friend-zoned him for two reasons. One, I wasn't sure that I had heard from God about whether this person was actually my person. Actually, three reasons. Second, marrying Banky W [laughs]. I was like, 'my life on my own is chaotic enough, I would now marry Banky? No, no, no.'

"And then thirdly, just trying to at least have a friendship. And I honestly believe that the friendship we laid over a year and a half has played a very big role in how our relationship is today. Banky W is my guy. I mean if you take away romance and sex and everything that makes a marriage, he would still be my guy. Banky is my best friend."

Banky W inferred: "No, leave sex. Don't take it away [laughs]."