Beach orgies, falling in love with a polyamorous woman - Jidenna 'spills' interesting 'hoe phase' and love journey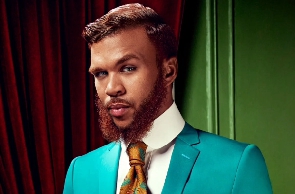 Popular musician, Jidenna Theodore Mobisson, has narrated how a 'certified playboy' like him ended up falling in love with a woman of his caliber; he met his match.
In an interview with Ebro Darden on Apple Music 1, the 'Classic man' hitmaker disclosed that his current girlfriend initially had two boyfriends when they first met.

"We both came from non-monogamous situations. I met her, she basically had two boyfriends and she was in love with them both. And she told me the second day, after we were dancing to Marvin Gaye at sunset, I was like, 'Damn! I might love her'. Second day, swear. And she's like, 'I want to let you know something. I want to let you know that I'm with a partner'. I was like, 'Okay. That's okay. Are you married?' She's like, 'Nah'. I'm like, 'Okay, cool'. She's like, 'Well, I'm in love with him'. I'm like, 'Oh, okay'. She's like, 'I also got another boyfriend who's in town or somebody I'm seeing in town'. I'm like, 'Okay, cool. You in love with him too?' She's like, 'Yeah'. I was like, 'Okay, all right. Okay'. You know what? I'm with it because I've met my match.

"Usually I'm used to saying, 'Hey, I'm coming off a relationship'. I had two girlfriends. And a lot of women were very terrified by that. Oh, you think you a pimp. You just a sophisticated pimp. That's this polyamorous word. But meeting her, I knew that she had already had a similar experience," he stated.

Jidenna, who admitted to being in his 'hoeing' phase, exploring beach orgies and women of all races, said this particular girl beat him to his game.

"I literally met a woman who I knew instantly that I was gonna ride with her, she was gonna be a companion, and we were gonna ride the saddle, you know? I just knew it, he recalled. So that process, from going from an amazing hoe phase to me trying to date a little more intentionally, then landing with this beautiful companion. It was what I was going through. It was quite tough," he retorted.
In one of the tracks on his 'Me, You and God' album, Jidenna talked about taking part in a beach orgy in Bali, and although musicians are known to be creative with their music, the Grammy-nominated revealed that every bit of encounter was true.

"Everything is true but I had to change the name of the area. Like I said, the orgy happened in Bali but it wasn't in Bali, it was in another place and I didn't wanna say the name of the place to protect everybody involved. But yeah, everything is true," he added.

However, Jidenna said he and his girlfriend are now exclusive.

"Man! we built long enough, those relationships kind of went their way. The women I was dating, I stopped. I closed all those doors. So now it's just us. Is it monogamy or is it monogamous? Maybe you can call it that. But I just know we are in this stage... We are in a foundation-building stage. That's all I care about. People think polyamory is automatically an open-off rip. Nah, man. Like build with one person. People try to add on too quick. They be thirsty. I ain't thirsty. I want to build for, it could be years, who knows. And we may not open up ever. I reserve that right. Or it may be in 10 years, or it may be in a year," he claimed.


Click here to follow the GhanaWeb Entertainment WhatsApp channel



EB/BB