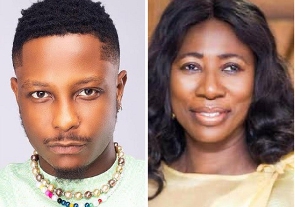 Popular Afrobeats singer, Kelvyn Boy, has asked Ghanaians to celebrate Cindy Thompson while she is alive.
The veteran Ghanaian gospel musician shot to fame with her song "Awurade Kasa" which was subsequently used as an official campaign song for the New Patriotic Party in 2000.

She is well-known for hit albums such as Messiah, Nkunimdea, Jesus Wo Nkoa, Onokwafo Nyame, Calvary Nyannkopon, and many others.

However, eulogizing the singer on Twitter, Kelvynbwoy said, "Cindy Thompson!! That Woman should be celebrated if she's still alive! Wild Gospel Discography."

Recently in an interview with Joyfm, the gospel singer vowed to sue anyone who dares to sample her songs.
"I won't do all the all-nights and write a song for someone to use it," she stated.

Check Kelvyn Boy's tweet below: