'Criminal pastors' - Baba Sadiq reacts to Ablakwa's exposé on Rev. Kusi Boateng and the National Cathedral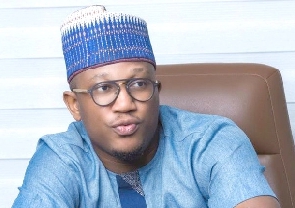 Media personality, Baba Sadiq, has weighed in on Samuel Okudzeto Ablakwa's explosive accusations that Reverend Victor Kusi Boateng uses multiple identities for possible conflict of interest dealings in his capacity as a member and secretary of the National Cathedral of Ghana's Board of Trustees.
The Member of Parliament (MP) for North Tongu alleged on January 16, 2023, that the Power Chapel International founder and general overseer, Victor Kusi Boateng, had identified himself in other official capacity as Kwabena Adu Gyamfi.

The MP provided copies of Rev. Kusi Boateng's passport and driver's license in a tweet to buttress his claims.

Adu Gyamfi was born on December 30, 1969, according to the three passports the MP shared. Those passports were issued in 2014, 2016, and 2021, respectively.

In response to Ablakwa's tweet, Baba Sadiq said that he was certain that the clergyman will be involved in a number of dubious contracts.

He added that these were dishonest pastors who were committing crimes such as looting public funds while claiming the name of God.
"Criminals involved in a create, loot, and share scheme using the name of God and criminal pastors. Damn.

"I am confident time will reveal the actual beneficiaries of the several shady contracts and payments to Adjaye as well. It won't be anything far from the family and friends," he said on January 17, 2023.


Criminals involved in a create, loot and share scheme using the name of God and criminal pastors. Damn. I am confident time will reveal the actual beneficiaries of the several shady contracts and payments to Adjaye as well. It won't be anything far from the family and friends. https://t.co/UDtNLQf217

— Baba Sadiq Abdulai Abu (@sadiqabdulaiabu) January 16, 2023
ADA/SARA