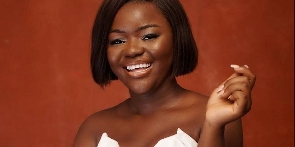 Social Media Manager, Maame Yaa Boadi, has asserted that at the beginning of a year, people do not have to put their lives on hold or start everything all over again.
According to her, new year's resolutions talk about letting go of the past, things you don't want to carry with you into the new year and improving on the good things, especially things you weren't able to accomplish in the previous year.

Speaking to Mercy Bee the Ekumfi Princess on e.tv Ghana's Girl Vibes show, Madam Boadi said, "I don't believe in that. Your life should not pause or end for a new year. There is this new thing I'm practising where I've stopped calling it new year's resolution, but rather start calling it goal setting. Goal setting because if we just say it without working, it won't work".

She emphasised that achievements don't happen in a day, hence to work towards it the resolutions need to be written down "so you are reminded of it always.
"I believe that if you start with one year and you put in the necessary steps and efforts, with time you will be able to achieve whatever it is you want to achieve," she stated.

She further mentioned that starting from somewhere will help you know where to head and how to go about it.

"I believe that is the motivation and if you just say it and you don't have a motivation or a reason why you're saying the things you're saying, then you might not be able to achieve the goals," she noted.