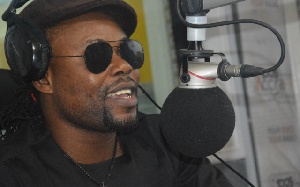 Veteran Highlife artiste, Dada KD has established that every man possesses womanizing traits except those who are homosexuals.
According to the 'Fatia fata Nkrumah' hitmaker, it is normal for a man to love multiple women but unfortunately, society frowns at it.

"Womanizing is a typical trait of every man on earth and it cuts across every profession because women are supposed to be loved by men," he said in an interview with Amansan Krakye.

"On this planet called earth which man is a piece of wood who doesn't have feelings for the opposite sex, so it's not absurd for a man to love women," he added.
The popular Ghanaian musician also disclosed that although he is not married, he has five children with four different women.

"In this world men are created to love women and women are also supposed to love men but if it becomes more than necessary then we say such a man is a womanizer," he added.