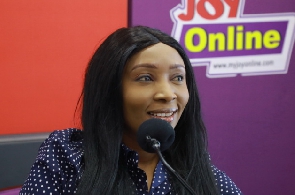 Thu, 16 Mar 2023 Source: Lawrencia Sarfowaa Oworae, Contributor
Ghanaian men have been described to have a laissez-faire attitude towards certain situations. They seem to be very slow to action especially when they are needed the most.
A media practitioner Harriet Nartey, actor John Dumelo and an avid listener of Joy FM, Susan Adu Amankwah were on the Joy Super Morning Show on Friday to discuss the topic "What do Ghanaian men bring to the table" in a relationship?

Susan disclosed that Ghanaian men are not assertive. According to her, certain issues need to be dealt with directly and instantly yet Ghanaian men will pay little attention and keep them pending.

"Ghanaian men really can be laissez-faire, there are certain things you expect action, you expect a bit of assertiveness and then they relax and say oh let's see how it goes and we will pick it easy, it will find its way,"

"It can be good at times, yes, but there are certain times that action must happen and the Ghanaian man is relaxed and you're just confused," she said.

Susan advised Ghanaian men to create a perfect balance between their diplomatic personality and also being assertive to create a smooth and comfortable environment.
"Every virtue when it gets to the extreme can become a vice," she advised.

According to Madam Amankwah, this downside is almost only peculiar to Ghanaian men. She said she has encountered men from other countries who seem to be a bit more upfront and assertive than the typical Ghanaian.

On the other hand, the Ghanaian men in the studio came to their own defense to explain why they are slow to action and sometimes allow women to take charge.

Programme host Kojo Yankson agreed to the fact that Ghanaian men are slow to action, however, he explained that men do that because they are very calculated and cautious when handling issues because they always want to be accurate in giving solutions.

"I think Ghanaian men are slow to action generally because we are very deliberative, we want to deliberate and be as sure as possible before we take an action. We hate to be wrong or we hate to throw a resource in the wrong direction, so we want to get it right", Mr. Yankson said.
Co-host Winston Amoah also said men mostly allow women to take charge for their own peace of mind.

"If you want your peace of mind, the woman is always right, when it gets difficult the men step in and get it done but until then, he wants to sit back and watch you do all the things. And it's nice when the women are in charge, it's so peaceful," he said.

Harriet joined in to advise that going forward, she expects Ghanaian men to listen more and pay attention to detail.

"Hopefully in the future, we want to see the Ghanaian man not being diplomatic with everything because they have to portray niceness, gentility and loving,"

"We want to see the Ghanaian man listening more, quick to action, trusting the fact that whoever is offering them help is coming from a genuine place, do not think that it is being weaponized against you or there is a motive behind that," Harriet counselled.
Source: Lawrencia Sarfowaa Oworae, Contributor