Have you caught me in bed with your mother or sister? – Xandy Kamel slams ex-husband over lesbian tag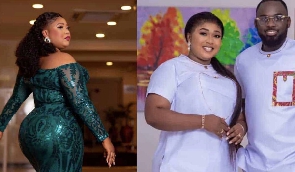 Xandy Kamel has posed some questions to her ex-husband in a bid to tackle his claims that she is a lesbian.
Earlier after Xandy's interview with Delay where she disclosed being the sole financier of their marriage and the breadwinner of their home, her husband Kaninja, stormed social media with a disparaging reply that triggered a response from Xandy.

In a bid to hit her where it hurts the most, Kaninja labelled Xandy a lesbian who spent her resources on her partners and paid less attention to their marriage.

This development, however, has triggered some nerves, as Xandy has insisted that he provides evidence for his claims.

"You said I am a lesbian yet you haven't caught me in bed with another woman before. Or have you caught me sleeping with your mother or sister before? I am mentioning your mother because you mentioned my mother first. If you respect people and draw boundaries enough, you will be respected as well. Do you really want us to do this?"

Xandy,went on further to note that the battle line has been drawn.

"What you have said won't stop me from talking. And before you speak again, make sure you have brushed your teeth and taken your bath. Make sure you are not wearing any of the clothes including the boxer shorts I bought for you. But be sure to know that I will release all the evidence I have. I will be waiting. Just bring it on," she added.
Kaninja's first reaction

Kaninja, the ex-husband of Kumawood actress Xandy Kamel, said she was a lazy wife who couldn't keep her matrimonial home organized and clean.

The Angel FM sports presenter who has been mute over years about their divorce, was forced to react after his ex-wife resuscitated issues regarding their marriage amidst some damning allegations during an interview with Delay.

Click here to follow the GhanaWeb Entertainment WhatsApp channel



EB/SARA