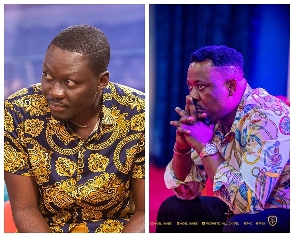 Arnold Asamoah-Baidoo's toolkit for analyzing Prophet Nigel Gaisie's doom prophecy about one Sherrif Black included biblical examples of how prophets and messengers relayed prophecies directly to the individuals the prophecies concerned.
While emphasizing that he cannot question where the Prophetic Hill Chapel founder "gets his power from" hence, cannot discredit the prophecy nor label the prophet a liar, the entertainment journalist cum analyst indicated he was bewildered over the clergy's approach.

One aspect that Arnold found problematic was Gaisie's perceived evasiveness. He pointed out that Gaisie seemed to be attempting to sidestep the issue by refuting suggestions that his death prophecy pertained to musician Black Sherif rather than the Sheriff Black the prophet initially mentioned in his Facebook post containing the prophecy.

Gaisie in his interview on United Showbiz hosted by MzGee had maintained that the revelation is about Sheriff Black and not Black Sherif, fanning into flame the controversy surrounding his prophecy.

"Why is it that when Black Sherif was hustling at Konongo, we didn't receive any prophecy from Nigel Gaisie that there is a young chap who would be the biggest in Ghana some two years to come? Why hasn't he done this before?" Arnold asked on the show monitored by GhanaWeb.

"Secondly, where is the positivity? He's never given positive prophecies before. Why don't we hear of positive prophecies and it's always been about negativity? Why?" he asked again.
Arnold's third point focused on how such messages were delivered in the Bible. He cited how Prophet Nathan confronted King David about his adultery with Bathsheba and his orchestration of Uriah's death on the battlefield as captured in 2 Samuel 12, among others to buttress his point.

"…In the Bible, if there's a prophecy about an individual, God instructs the said prophet to go straight to the individual it concerns. And that's what happened to David in his case with Nathan. It was direct," he argued.

"When God had a message for David, Samuel did not deliver it in public. Instead, he looked for David. When his first attempt failed, he went into the forest to search for David to deliver the message. When God wanted to deliver a message to Hezekiah that he was going to die, God sent Isaiah straight to Hezekiah. It was direct," Arnold added.

He continued: "The closest public declaration in the Bible was Belshazzar when a person's hand appeared and began writing on the wall. Even that, it was only the king who saw it. There is always a way to go about it if it's for the public so why is this different?"

Arnold was puzzled over the remedy Gaisie gave as he wondered the rationale behind putting the prophecy on social media when the prophet could have engaged the family privately.
He said: "Nigel said the remedy is simple. Using Efya and her mother's issue as an example, he said it's about fasting and prayers. If it's just fasting and prayers, why not look for the said Sheriff Black and his family and communicate with them?"


Ghana's leading digital news platform, GhanaWeb, in conjunction with the Korle-Bu Teaching Hospital, is embarking on an aggressive campaign which is geared towards ensuring that parliament passes comprehensive legislation to guide organ harvesting, organ donation, and organ transplantation in the country.
BB