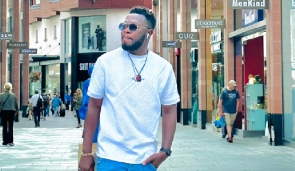 Weeks after announcing his divorce, Reggie Zippy, the UK-based Ghanaian rapper, shared an intimate photo with his new romantic partner, a white girlfriend.
The public display of affection generated attention and sparked chatter among fans and followers.

Reggie Zippy took to social media to post two separate pictures featuring himself and his new lover. In one of the images, the lady's arms were wrapped around Reggie's neck, as he grabbed her buttocks.

The rapper, who is no stranger to public scrutiny, responded to the public backlash by calling on fans and followers not to rush to judgment defending his actions and urging those criticizing him to consider his perspective.

In a post shared on his Instagram handle (September 10) ostensibly replying critics, Reggie Zippy started with a rhetorical question, "You want to judge me?

"That's alright but wait until you try to contact your own children you've raised for 15 years and more lands you in police custody and any future attempts to contact them whether directly or indirectly could lead to your arrest and imprisonment.

"I am an innocent good father on bail without any criminal charges, do you know how that feels? Let it sink in and stop judging people you know nothing about on social media. I dare you to walk a mile in my shoes and let me know how you get on.
"My heart is pure, my mind is strong, my spirit is unbearable and God has always been on my side so I fear no man or evil plot against me."

Infidelity and other reasons Reggie Zippy's wife filed for a divorce

Reggie Zippy's ex-wife, Edith Ward, said she filed for the divorce based on infidelity, lies, alcohol, and financial abuse among others.

She expressed that for the past two to three years, Reggie had been involved in an extramarital affair with a certain white lady.

She also stated that Reggie had stopped fulfilling his financial obligations to his family, a situation which compelled her to work around the clock just to make ends meet.

"I walked away and filed for divorce after you betrayed and walked away from our covenant (marriage). Lies, deceit, constant cheating, years of alcohol, and financial abuse made me work day and night to save my family. My love, care, and patience still weren't enough for you to stop it all, so I decided to save myself and my children from hell. I walked away and never looked back. Now continue to live happily with the 'white' (as you like to brag to me) woman you have been with for the past 2-3 years, while still married.
"Start providing for your kids financially and stop creating this false narrative online to make me look bad. I have tried to be the bigger person for a long time and have kept quiet. Now I have had enough too and hope that you can put a stop to this constant emotional abuse. #Truthalwaysprevails#Enoughisenough."


AM/SARA
Click here to start the nomination process for the 2023 GhanaWeb Excellence Awards
Ghana's leading digital news platform, GhanaWeb, in conjunction with the Korle-Bu Teaching Hospital, is embarking on an aggressive campaign which is geared towards ensuring that parliament passes comprehensive legislation to guide organ harvesting, organ donation, and organ transplantation in the country.
Traders at the Tetteh Quarshie Art and Craft Market reflect on 2021 demolition with GhanaWeb TV's Etsey Atisu on #SayItLoud:





You can also watch the latest episode of Everyday People on GhanaWeb TV below:




Share your news stories and ideas with GhanaWeb




To advertise with GhanaWeb