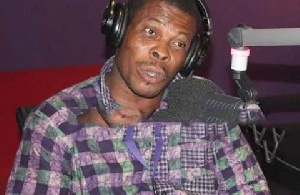 Veteran actor, Prince Yawson popularly known as Waakye, has rejected claims that almost all veteran actors are begging from the public to survive.
This follows reports that many actors struggle in their old age to cater financially for themselves and are even unable to fund their medical bills before they die.

Some Ghanaians have cited cases involving Jojo Dadson of Home Sweet Home Fame, Kofi Laing, popularly known as Kohwe, and Psalm Adjetefio aka T.T of Taxi Driver fame who recently had to turn to the public for help.

Speaking on Atinka TV's morning show, Ghana Nie with Co-host, Maame Asor, Waakye said he was an exception to the trend despite being in the news some time ago that he was also very sick and needed help.

"Some time ago, it was out there that I was begging. When you go into the records, I have never sat on any platform to ask for this or that," he said.

Waakye said the country is sick, explaining that better systems have not been put in place to safeguard actors and musicians in their old age, hence the latter.
"I would say the country is sick because things are not being done the way they should be done. Pension payment is a problem, we even did a play on it on 'Obra', 'retirement woes'. I also blame those in active service because the man who worked and went on retirement is struggling to get his pension allowance when it is the time he is supposed to enjoy."

When asked if actors do not have welfare, Maame Nfante, who was also a guest on the show, said she had never seen anything like Pension Pay or welfare for actors.

She, therefore, urged actors and all those in the entertainment industry to save money for their own future so that they will not have to rely on anyone for money when they go pension.

"Try and save from the money you get. If you do not save, it will worry you in the future," she said.

When asked about the Actors Guild, the umbrella body for Ghanaian actors, she said they do not have any idea of where their office is even located.
Maame Nfante said most of them (actors) do not have properties because many of them were not given enough money for the movie roles they played.

In some instances, Maame Nfante said some people took the monies on their behalf without sending it to them.

"You could be on set and your money will be in someone's pocket and by the time they finish they would have left the set. Although we charge, some of the monies did not get to us," she said.