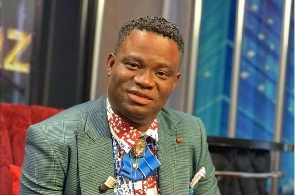 Veteran gospel musician, Isaiah Kwadwo Kwakye, popularly known as Great Ampong has indicated tough times as the reason for his long absence in the Ghanaian music scene.
According to him, financial instability is the main reason why he has not been able to release a song in decades.

He told Nyansa Boakwa on Happy FM's 'Obra Yi' edition of the 'Nsem Pii' show that money is everything in the music industry and without it no musician can thrive for long.

"Money is a factor, it is the reason I have not released a song in the past seven years. You spend about 700 million on a song now. The only money we had was for feeding and for housekeeping you can't use that to record a song in a studio," he disclosed.

"Because of modernization, you can't sell CDs again so how do you pay the person helping you those times when we were promoting songs is passed," he added.
He mentioned that although modernization has put a stop to the selling of hard discs and pen drives, "the online portals don't fetch your money, and there is no producer who would invest money into a musician and hopes to get profit from online sales."

He maintained that he would welcome collaborations with other gospel artists on the basis of honesty.

"If the person comes with good terms I would cooperate because people have cheated me a lot," he said.