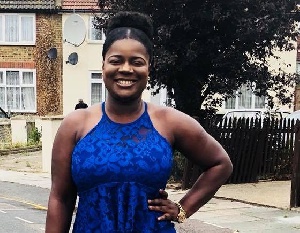 Tue, 13 Nov 2018 Source: Onell Paa Kwasi
The Gospel music industry has received the addition of some fresh limbs over time, but one new entrant, who is a UK-based Ghanaian and goes by the name Sandra Asante, is keen on breaking borders and propelling the gospel with her works.
Professionally launching her career on the 17th of November 2018, she is set to release her maiden single titled "Aye yi ndwom" which will be officially outdoor on the 15 December, 2018 and expected to do well both on national and international platforms considering the message, direction and melody of the track.

The young Gospel musician is on a mission to inject some spirit filled and led songs onto the scene. Signed onto Urban Gospel Records, Sandra Asante was born on the August 2nd into a humble family of 4. The singer had her elementary education at Cambridge International School in Dansoman and then proceeded to the Ghana national college and to city Business College where she offered business studies and graduated in 2001.

She later moved to the United Kingdom in 2002 and further went on to study Human Resource Management at the Greenwich University. Music, for Sandra Asante is an in-born trait. At the age of 10, and even earlier, she started singing as a child in church, school and musical programs. She took up music to a professional level some years back, when she realized she has to reach out to a wider audience and make an impact to her generation and many to come with her gift.
Sandra Asante is highly optimistic about the future of gospel music in Ghana as she strongly believes the industry has grown tremendously over the years and still has more room to cover.

She believes gospel music should have the basic aim of spreading the gospel and impacting lives positively, however, the case seems to be on the reverse in our modern gospel music industry as money making has become the prime motive of many gospel artists and hence the artistry is fashioned to suit the money making trends neglecting the basic purpose of Gospel music being "God-inspired".

Sandra Asante who is currently working on other projects which are expected to be released soon by her management noted she will make Gospel that is geared towards spreading the good news and making a generational impact. She couldn't have left without an advice for his colleague gospel musicians, "God rewards good works and if it is done and done with a good heart, it will surely pay." she said.
Source: Onell Paa Kwasi