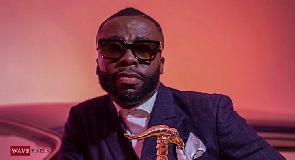 Radio show host, Andy Dosty angrily responded to a listener who asked him to discuss and promote Shatta Wale's latest album 'Maali'.
During Andy's show on Hitz FM, the listener via text stated that the album was doing well but nobody was talking about it.

After Andy read the message, the on-air personality expressed fury towards the texter and Shatta Wale on the basis that the musician insulted his (Andy Dosty) mother and spoke foolishly about her on stage.

"You want me to talk about it? An artiste that stands on stage and insults my mother and talks anyhow and foolishly to my mother, and you want me to what?" he exclaimed.

He reiterated his love and respect for his mother, stating that he would not speak ill of anyone's mother because he was nurtured.

"If you don't have sense, I do. If you don't respect, don't come here. The woman who gave birth to me has lived a good life and has a good place to live," he added.
Andy criticized Shatta Wale's behaviour of insulting people and noted that people do not take things seriously and instead encourage his foolish behaviour.

He also called out those who wanted to come on his show to promote their stuff without respecting him or his mother.

"That's all I have said. I love my mother, and nobody, nobody... I won't speak ill of anyone's mother; she raised me well. You can fool around. The fooling is too much in this country.

"You will be sitting there, and they will want to come and sit here and say they want to promote their stuff. What do you want to promote? If that woman didn't give birth to me, where would you know me from? Foolish guy," a visibly infuriated Dosty fumed with rage.


.@shattawalegh 's 'MAALI' album is nice though. @andydosty , please forgive us. It won't happen again. pic.twitter.com/Fzim0ePV8g

— Kwame Dadzie (@Kwamedadziegh) April 4, 2023
You can also watch some of our programmes below.







ADA/BB