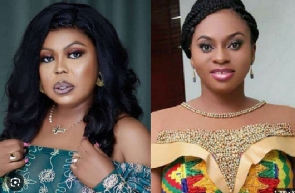 Afia Schwarzenegger has asked Ghanaians not to fall for what she described as Adwoa Safo's new set of gimmicks.
She said Ghanaians, particularly Dome-Kwabenya constituents, should remain resolute in kicking out the MP in the forthcoming elections.

Afia's statements stemmed from the discussions that have since followed Adwoa Safo's apology to the New Patriotic Party (NPP) for the controversies she sparked during her extended absence from parliamentary duties.

Recently in a video shared on social media, the Dome-Kwabenya MP acknowledged that the negative actions she exhibited during that time were unjustified and expressed regret.

She explained that her emotions were fueled by the complex personal challenges she was facing in her private life.

However, in a TikTok live, Afia Schwarzenegger alleged that Adwoa Safo's apology forms a calculated ploy by some NPP executives to present her once again as a candidate to contest the Dome-Kwabenya seat in the 2024 elections.
She also bemoaned the manner in which the party is 'massaging and condoning' what she termed as Adwoa Safo's lackadaisical attitude towards the seat and the NPP as a whole.

"Who are you? That we must beg every time there's an election, we have to beg you? No! you people should not let people take you for granted. I have heard that some NPP executives are going round telling senior members to help her regain the seat. That's why she came out. We don't care. NPP can give the Dome-Kwabenya Seat to Adwoa Safo and her family we don't care.

"What I am telling Ghanaians is that, if they present Adwoa-Safo, vote her out. Period! We are not in for childish behaviour. Nobody is here to condone foolishness. If you've got emotional problems see a psychologist. You want us to vote for you so that after, you tell us you are going through a lot and abandon the constituency. In 2020, some of us were doing door-to-door campaign in Dome-Kwabenya constituency because they said Adwoa Safo was pregnant and she was going through a lot," Afia Schwarzenegger fumed.

Watch the video below:


Click here to start the nomination process for the 2023 GhanaWeb Excellence Awards

Ghana's leading digital news platform, GhanaWeb, in conjunction with the Korle-Bu Teaching Hospital, is embarking on an aggressive campaign which is geared towards ensuring that parliament passes comprehensive legislation to guide organ harvesting, organ donation, and organ transplantation in the country.

EB/BB