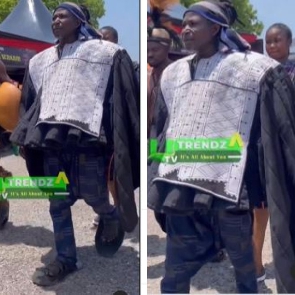 King Ayisoba, the internationally acclaimed traditional musician, has bid farewell to the late Christian Atsu, former Ghanaian footballer, in a manner that demonstrated his love and respect for the departed.
Clad in his traditional smock attire, and signature oversized slippers, King Ayisoba joined a host of dignitaries, including Ghana's President, Nana Addo Dankwa Akufo-Addo, and Vice President Mahamudu Bawumia, to pay his last respects to the late footballer.

The funeral of Christian Atsu, who passed away in February after being trapped under a rubble in the Turkey and Syria earthquake, had his funeral held at the Forecourt of the State House, Accra.

The event attracted a large number of dignitaries from various fields of endeavor, including sports, politics, entertainment, and the arts.

King Ayisoba's presence at the event was not surprising, given his well-known passion for traditional Ghanaian music and culture.

The musician is famous for his unique style of music, which blends traditional rhythms with modern sounds to create a distinct genre that has won him fans both locally and internationally.

As a mark of respect for the late Christian Atsu, King Ayisoba appeared in his trademark smock, dark garment worn by the people of northern Ghana, where the musician hails from.
The smock is usually made from handwoven fabric, and features intricate designs that are rich in cultural symbolism.

King Ayisoba's choice of clothing at the event was therefore a clear statement of his identity as a proud representative of his culture.

Apart from King Ayisoba, other notable personalities who attended the funeral of Christian Atsu included former President John Dramani Mahama, Minister of Youth and Sports, Mustapha Ussif, and former Black Stars players.

Entertainment personalities like Brother Sammy, Diana Asamoah, and Lydia Forson also performed at the event, underscoring the significance of Christian Atsu's contribution to the entertainment industry.


ADA/OGB