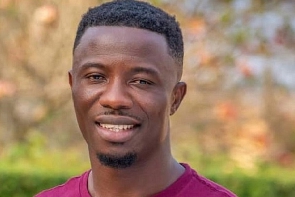 Ghanaian actor cum producer, Kwaku Manu has disclosed that he began to thrive in the movie industry after his visit to Bethel Prayer Ministry owned by Mama Vida.
He indicated that he was initially attending Seventh Day Adventist Church (SDA) but later left to join Mama Vida's church after he attended one of her counseling sessions.

Speaking in an interview with Accra FM, Kwaku Manu narrated how Mama Vida's church impacted his movie career and indicated that it is not mandatory for one to remain in the same church the person as born into.

"I was an SDA member before I joined Mama Vida's church. People say because I was born into the church, I should die in the church but that is not true. Sometimes check your life. Everyone has a mission for coming to this world. With my mission, maybe I work with a lot of people as an actor. Anyone who leads people should have a strong spiritual backing. So if I look at the kind of house that I come from and if I notice that my background won't allow me to shine in life even though God has said it.

"I didn't even plan to go to Mama Vida's church, I visited a friend there and I went for counseling, the conversation we had made me realize that I was lagging behind in certain things. After my encounter with her, I got my first hit movie and I became known in the industry. But sometimes people are ungrateful, they forget who made them what they are," he said.

The actor further lamented that some churches do not like his profession as an actor and that contributed to his decision to join the Vida Bethel Prayer Ministry.

"It was prophecied that Sampson would save Israel but because he disobeyed God and killed someone, the prophecy about his kingship did not come to pass. God told Moses to lead the Israelites to the promised land but Moses didn't get there. So sometimes when you hear the voice of God, ask yourself if the church can lead you there.
"Because even the church does not like my work as an actor, the church does not like it so if you want to attain your vision, you have to leave the church. Even in the bible, God told some people to leave their dwelling for another place if they want to succeed," said Kwaku Manu

BS/OGB

Ghana's leading digital news platform, GhanaWeb, in conjunction with the Korle-Bu Teaching Hospital, is embarking on an aggressive campaign which is geared towards ensuring that parliament passes comprehensive legislation to guide organ harvesting, organ donation, and organ transplantation in the country.

Click here to start the nomination process for the 2023 GhanaWeb Excellence Awards

Watch the latest episode of Nkommo Wo Ho on GhanaWeb TV below: