General News Sat, 13 Jan 2018
Former President John Mahama has described United States president Donald Trump as a racist and a white supremacist following some demeaning remarks he reportedly made against African countries.
There was public outrage after it was reported by the Washington Post that Trump had called some nations on the continent 'shithole countries.'

According to Democratic Senator, Dick Durbin, Trump, during a meeting at the White House to consider migrant policies, said, "Why are we having all these people from shithole countries come here?"

The alleged remarks were said to have also been made in reference to Haiti and El Salvador.

President Trump has since rejected the claims against him in a series of tweets but White House communicators have however failed to categorically deny that he made those comments.

Mr. Mahama condemned the reported comments and urged the African Union to take action following these developments.
"Africans and Haitians come from 'shithole' countries? Isn't Trump demonstrating that he's nothing but a racist and pursuing a policy of 'Make America White Again'? I congratulate Botswana for showing the way. Our AU Presidents must respond strongly to this insult," Mr. Mahama said in a tweet.

The government of Botswana summoned the US ambassador of its country to express its displeasure at the comments and asked the ambassador to clarify if Botswana "is regarded as a 'shithole' country" in lieu of the alleged comments from President Trump.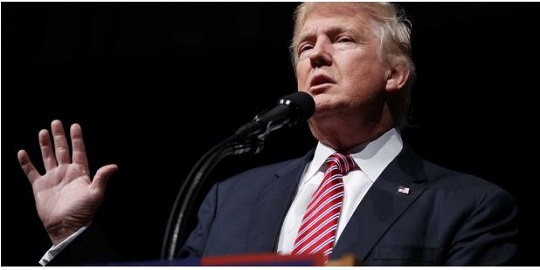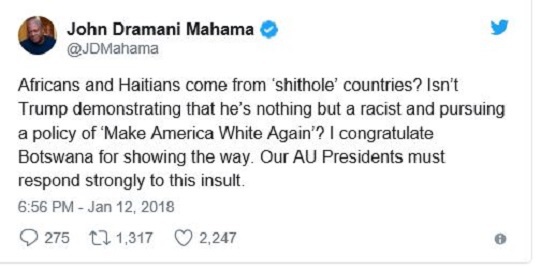 The African Union has also said it was alarmed by President Trump's vulgar statement.
"Given the historical reality of how many Africans arrived in the United States as slaves, this statement flies in the face of all accepted behaviour and practice," AU spokeswoman Ebba Kalondo said to the Associated Press.

The body has since issued a statement calling for the US leader to apologise for the remarks.

It said the "remarks dishonour the celebrated American creed and respect for diversity and human dignity".

"While expressing our shock, dismay and outrage, the African Union strongly believes that there is a huge misunderstanding of the African continent and its people by the current Administration," the AU added.