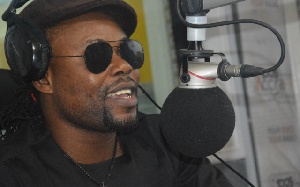 Legendary Highlife artiste, Dada Kwaku Duah popularly known as 'Dada KD' has established that former President John Dramani Mahama does not possess leadership qualities.
According to him, the former president had the opportunity to rule the country out of sheer luck and nothing else.

"Mahama should accept the fact that maybe it was through luck that he used to become a president. Maybe naturally he wasn't born to be a leader so he must understand that and behave like a statesman," he stated on Cape Coast's Kastle FM.

Dada KD who is an avid NPP supporter amongst other things chastized Mr. Mahama for embarking on a 'Thank you' tour after failing to accept the 2020 election verdict.
"Now he says he's embarking on a thank-you tour but he is the same person who said that the election was a stolen verdict," he continued. What again is Mahama coming to do if he had anything better to do for this country he would have done it during his reign as president," he added.

It can be recalled that the 2020 NDC presidential candidate toured all five regions in the North as part of his nationwide 'Thank You' tour.