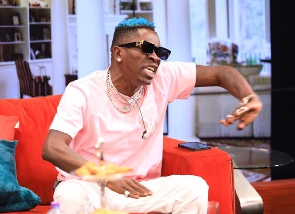 Dancehall musician, Shatta Wale, has shot down claims that he was paid some amount of money to defend the NPP government in the Meek Mill saga.
Shatta Wale has been sighted in several videos condemning critics of President Nana Addo-Dankwa Akufo Addo following news of Meek Mills' infamous visit to the Jubilee House.

One can recall that attacks from all angles were fired at Meek Mill, and especially at President Akufo-Addo, after the former's music video, shot at the Jubilee House, went viral.

Faultfinders blamed 'poor leadership' for the perceived blunder, which, according to them, undermined Ghana's seat of government.

In the midst of the attacks, Shatta Wale lambasted critics and labeled them villagers.

"You wan go America go take pictures for White House. You say "year of return "and your own black brother come shoot video as he return home you bore ..You are a villager trust me !!!
"You won't solve your problem. You want to fight with president. see mumu …Jon. There's a better beef coming up. Forget president beef and let's wait for the great beef …You can't show Nana anything. so shut up," he earlier wrote on Twitter.

But his comments stirred reactions from individuals on social media, including those who believed that he (Shatta) was paid to defend the government.

Reacting to this, he said;

"Some people are saying NPP has given Shatta Wale money to speak on their behalf because he is the outspoken person and the best person to do that. You are wrong in saying that because I have not received money from anyone," he said in a video shared on Facebook.

The dancehall artiste added that the last time he saw the President was when he visited him at the Jubilee House years ago.
Shatta Wale, however, asked critics to stop wasting their time since God keeps blessing him despite the negative vibes.

"Anyone who has evil thoughts against me will fall and it is a fact. God is blessing me because I don't think evil of anyone so I always succeed," he maintained.

Watch the video below



EB/BOG