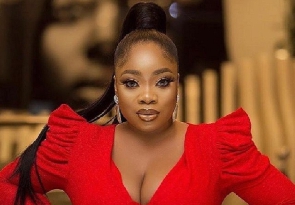 Pascal Amanfo's open letter to Moesha Boduong about the need to "shut down on all interviews" and "seek mental and emotional help and guidance" has stoked reactions with the socialite insisting she is mentally stable.
A few moments after Pascal shared the post, Moesha expressed gratitude but stated that she was of sound mind.

"Thank you soo much for this right up, I'm mentally stable and I was never going to say this, but don't believe all you read about me online," she wrote in the comment section. "I am a true woman of God; my journey may be different from everyone else and I have my own relationship with GOD."

A social media user with the handle edwayne_asante was, however, not impressed with the response from the socialite. In his view, the decision to continuously dance erotically was unacceptable.

"It's not just about reading things online, it's what we see online and how you behave especially dancing seductively et al, calling yourself sexy woman of God etc. just live your truth. You can't mock God!" he shared eliciting a response from Moesha as she justified her actions.

"That's my new brand and the last time I checked Kim Kardashian loves God. Being sexy is not from the devil. I love dancing before God touched me. God don't hate sexiness!" Moesha retorted.
Her defence triggered more reactions from other social media users. Among others, they argued that the comparison was regrettable.

Although Moesha announced in 2021 that she was a born-again Christian and consequently ditched her 'ungodly' ways to win souls for Christ, the actress and socialite is back in the news for wearing what some have described as indecent dresses. Recent video clips of her seductive dance moves at pubs have also been in circulation.

In her interview with Deloris Frimpong Manso on The Delay Show, Moesha had no regrets for her actions. She rather offered an explanation after the host mentioned that she appears to have lost it.

"I know what I want to become," Moesha replied. "I really want to leave this country and really direct my brand to the US because I really get invitations to go to the US for a lot of events and I'm trying to really build my brand to be an exotic sexy dancer to make money off that."