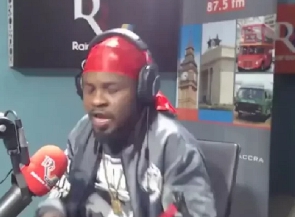 Hiplife singer Natty Borax has declared that, unlike in the past, there is no longer any competition in the sector.
Speaking exclusively to Danny Fii Abtantie on Rainbow Radio 87.5 Fm's The Away Bus Show, the singer stated that today's music is more analogous to fast food.

He compared today's music to fast food since it does not last.

He explained that, unlike in the past, when musicians including himself made several hit songs, this is not the case anymore.

"There is no competition today," he assured the host. Competition was fierce in our day.
You will struggle and it will take time before you can break through as a new artiste. But that is no longer the case. Today's music is more akin to fast food. Today's musicians are interested in quick-production music that doesn't last. It requires no imagination and creativity.

People can now use their bedrooms as recording studios because the production is hastened."

Meanwhile, he has expressed gratitude to the media, claiming that it has played a significant role in his successful career.

"I feel like I've accomplished a lot, and the media has also helped me a lot. He stated, "When I hear my songs on the radio and television, I feel proud of myself." I'm proud and excited since I used to be nobody but now I'm successful. My hits continue to play, and I thank God that as someone who came from nowhere, I am now successful."