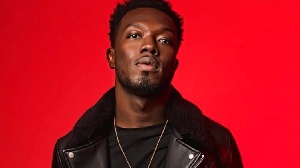 Popular Ghanaian musician Reggie Zippy recently claimed that he has been denied access to see his children by a UK court following his divorce from his ex-wife, Edith Ward.
The couple, until their shocking divorce recently, had been married for fifteen years, and their union had resulted in the birth of three children.

Reggie Zippy's revelation has sparked considerable public interest and concern, and now his ex-wife is responding to these allegations.

Reggie Zippy, whose real name is Reginald Ainooson, took to social media to share his feelings of anguish and frustration, alleging that he has been unfairly deprived of the opportunity to be a part of his children's lives.

The divorce between Reggie and Edith, which was finalized about a month ago, marked the end of a lengthy and once seemingly harmonious marriage.
Edith Ward, Reggie's former spouse, addressed the claims made by the musician in a recent statement, offering her perspective on the situation.

Edith stated that the claims by the 'Virgin' hitmaker were complete lies and that no court has denied him access as he tried to suggest.

See her post below